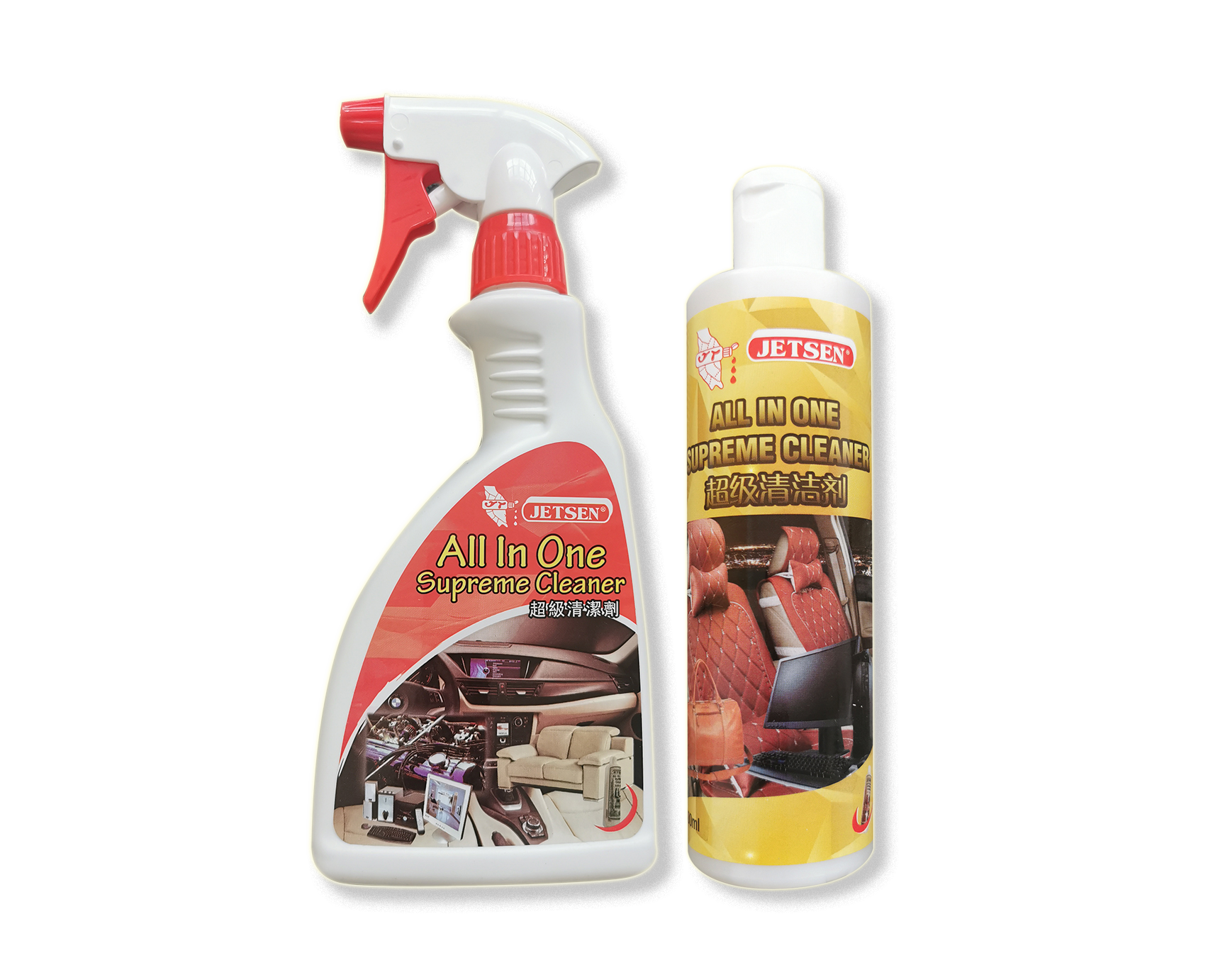 All in One Supreme Cleaner
RM25.90 (500ml) / RM19.90 (400ml)
FOR ALL WASHABLE SURFACES. ALL IN ONE SUPREME CLEANER is effective to clean all kind of dirty,oily greasy,smoke,stains etc.
适用于所有可洗抹表面。ALL IN ONE SUPREME CLEANER 能有效清除除一切顽固污迹,油迹,烟迹等。
Spray directly onto stained surface, use warm wet cloth to remove stain.
For carpet or cloth cushion cover, USE dry cleaning method:apply directly on the stained surface then wipe with a warm wet cloth.
For cleaning car windscreen: add some into the windscreen water reservoir.
To clear misting on car windscreen during rainy day: apply on the inner surface of the windscreen for better driving visibility.
直接喷洒于污迹表面,再以半干湿布抹净分解的污迹即可。
洗抹地毽,布类套垫:以干洗方法将此剂噴洒与脏面再以吸水布或温水加以贴抹干即可。
清洗玻璃擋风镜:可加入汽车雨水箱。
雨水镜蒙蒙时:只需将此剂涂抹车镜内面一层,即可视线清晰。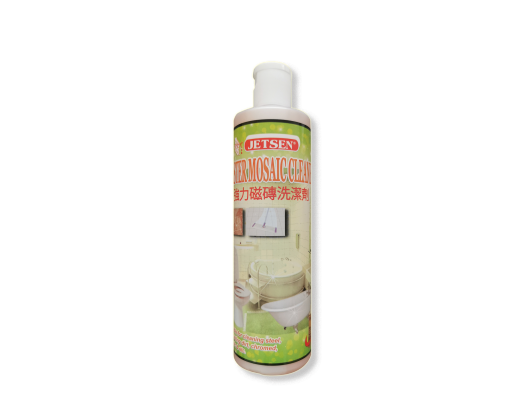 MASTER MOSAIC CLEANER(M.M.C) which is also called WASHROOM CLEANER is a specially formulated cleaner, suitable for cleansing steel, encrusting dirt, chromed, mosaic & etc. It is 4 times stronger than ordinary mosaic cleaner.
MASTER MOSAIC CLEANER(M.M.C)又名WASHROOM CLEANER适用於洗抹抹铜,锈,电镀,磁砖等等。能清除最顽固的污迹,有普通磁砖洗洁剂4倍的清洁效能。
Dilution: Wear gloves is necessary.
Stubborn Stain: Apply on surface & scrub off.
Stain: Dilute 100ml (M.M.C.) to 100ml water.
Normal Cleaning: Dilute 100ml (M.M.C.) to 200ml water.
稀淡法:戴上手套,如有需要。
顽固污迹:倒少许(M.M.C.)于污迹然后洗刷即可。
沾污:稀淡100ml (M.M.C.)于100ml 清水中。
普通清洗:稀淡100ml (M.M.C.)于200ml 清水中。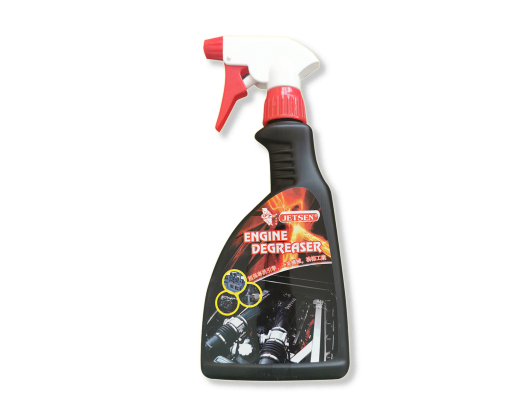 Engine Degreaser ideal for cleaning engine &machine. It remove grease, dirt and oil film from auto vehicle and truck engines. It is easily flushed off with water.
Make sure engine is cool condition. Spray engine especially dirty part. For best result, let degreaser penetrate and leave for 10 minutes, flushing off thoroughly with water (prefer Hijet water pump). Repeat if necessary.
等到引擎冷却,把 Engine Degreaser 直接喷射在引擎表面稍等10分钟,用强力水泵冲洗,可以重复使用至到干净为止。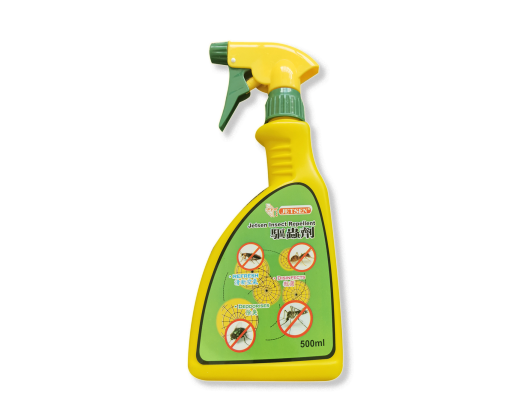 Refresh 清新空气
Disinfects 杀菌
Deodorises除臭
Unique Lemon Grass formulated to effectively repel insects. It also refresh air, disinfects and deodorant leaving behind a clean, fresh & hygienic environment.
独特香茅配方有效驱逐减少害虫,除臭及使空气更加清新让家居更清洁卫生。
Spray directly on the areas infested with insects.
To deodorize, spray directly into the atmosphere.
Mop/wipe on areas where you need to enhance hygiene.
直接喷洒在昆虫出现的地方。
直接喷洒在空气中以除去异味。
用拖把/布抹干净您需要加强卫生的地方。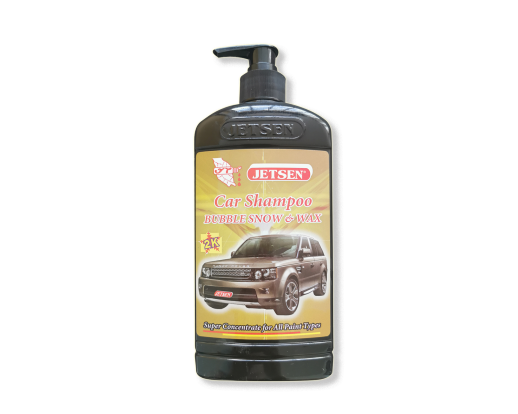 Contain special compound to remove oil, grease, grime, dirt, traffic film stains etc. Which normal shampoo can't remove.Does Not Affect Paintwork.
Wash car body to sparkling clean and thereafter leave a wax film to enhance the existing wax coating for car body to shine better always. Wash & Wax effectively in one simple operation.
Hose to get rid of mud, sand or any hard or sharp particles from car body.
Add 1 capful of shampoo into 1 gallon of water, wash with sponge or cloth.
Rinse before allowing to dry.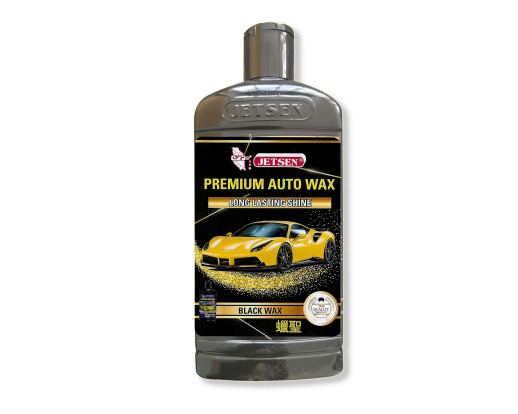 Easy to polish
With ultraviolet protection(U.V)against sun,rain,snowsalt spray,grease or tar.
Gives a tougher longer lasting shine not only to cars,caravants boats and many other household surfaces.
Wash the car thoroughly.
Shake well before use.
Polish evenly onto car body by using the polish cloth.
When dry, remove chalky haze with a soft clean cloth.
For metallic paint and normal paint.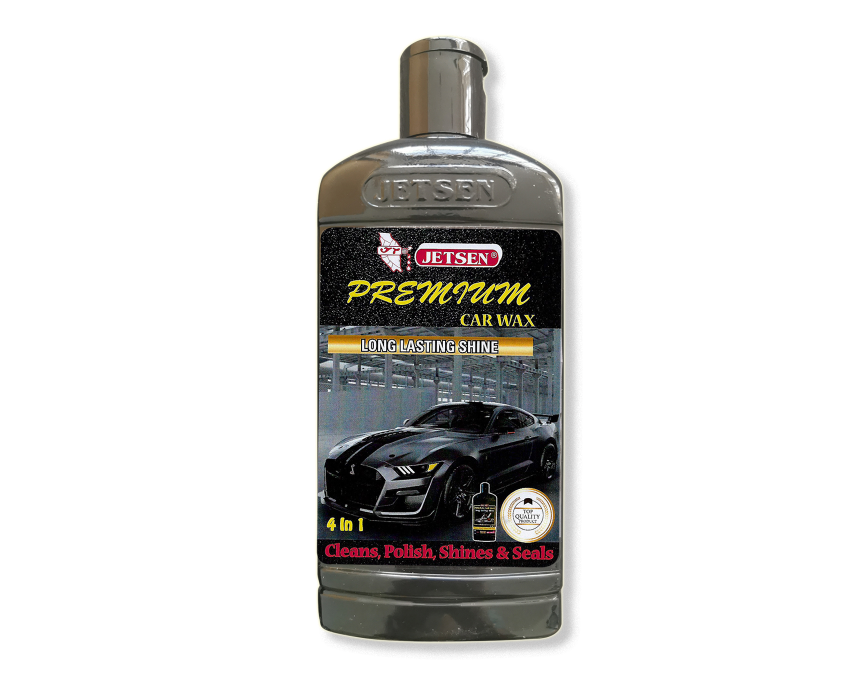 Easy to polish
With ultraviolet protection (U.V) against sun, rain, snow salt spray, grease or tar.
Gives a tougher longer lasting shine not only to cars, caravants boats and many other household surfaces.
Wash the car thoroughly.
Shake well before use.
Polish evenly onto car body by using the polish cloth.
When dry, remove chalky haze with a soft clean cloth.
For metallic paint and normal paint.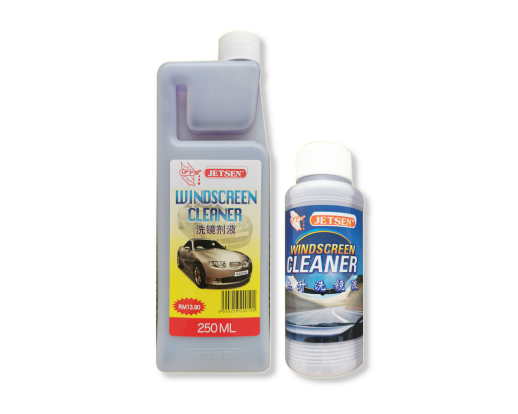 RM13.90 (250ml) / RM7.50 (110ml)
A special blended aqueous chemical solution of synthetic surfactant, detergent and alcohol for car windscreen cleaning. Optimum performance in removing dirt, dust, and oil from windscreen and leaving a clean and clear view. No deterioration to your car paintwork and rubber parts.
Dilute with 20-40 parts of water to washer bottle.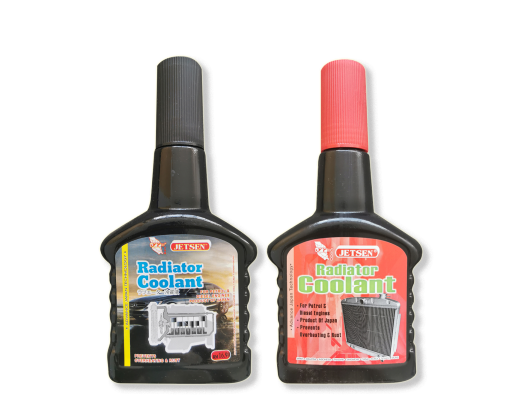 RM16.90 (350ml) / RM18.90 (350ml Red)
For petrol & diesel engines
Product of Japan
Prevents overheating & rust
Specially formulated to prevent overheating, rust formation, corrosion and fights acid formation. Safe for cast iron, aluminium, copper, brass and rubber. Contains ethylene glycol and rust inhibitor to actively prevent overheating and rust formation.
Add 1 can to radiator. If dirty, flush radiator first. Change every 20,000km / 6 months.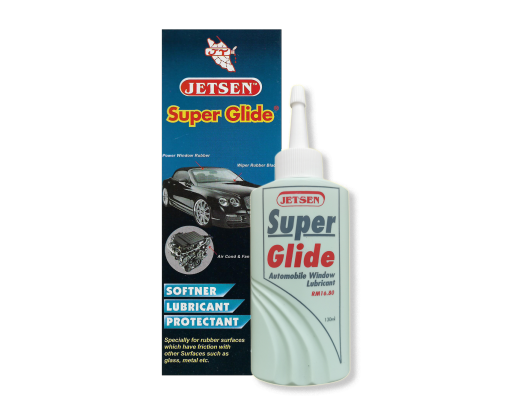 SOFTNER
LUBRICANT
PROTECTANT
JETSEN SUPER GLIDE is a silicone based product and will effectively lubricate, soften and protect window rubber, windscreen wiper, aircond & fan belts of engine and any other rubber surface which are having friction with other surface.
JETSEN SUPER GLIDE is specially formulated with extra low viscosity and fast coating property so that it can give more complete treatment even up to hidden or unreachable part.
For Windscreen Wiper:
Lift up the wiper. Apply SUPER GLIDE directly onto both sides of its rubber blade.
Allow penetration for 1-2 minutes. Put the wipers back to its position.
Turn the wiper for 1-2 minutes to enhance the coating.
For AirCond & Fan Belts:
When engine is cool down. Squirt SUPER GLIDE directly onto surface of the belts especially the inner part.
Start engine and run for 1-2 minutes to allow SUPER GLIDE to spread evenly.
Avoid re-starting the engine for the next 10 minutes to allow penetration and stronger bonding.
For Power Window:
Lower down glass window. Squirt SUPER GLIDE onto window rubber especially inner part, allow to flow downward.
Wind up and down several time to ensure SUPER GLIDE solution evenly spread out or until smooth movement is achieved.
Avoid re-opening the power window for the next 5 minutes or more to allow SUPER GLIDE coating to enhance and bond stronger.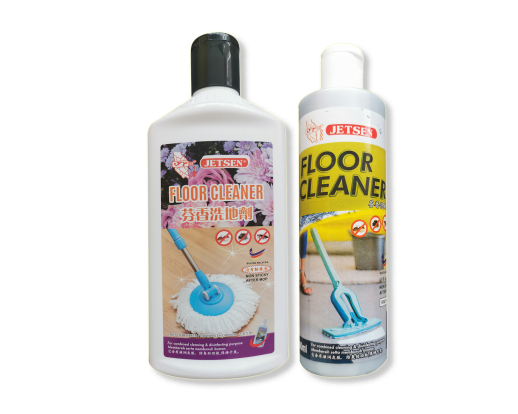 RM22.90 (500ml) / RM19.90 (400ml)
Floor Cleaner is the Floor Cleaning Chores where no rinsing is required and it's non-toxic. The functions include: Non-sticky, Cleans & Shine Floor, No Rinsing, Refreshing Fragrance, Moisturizing Action Anti static, Anti Dust, Stain Guard, Prolong Floor Life-span, Soft and Mild to skin and Environmental friendly.
浓缩地板清洁剂是全方位清洁剂专为家居清洁护理及家庭温室而设,无须再次以清水拭抹并不含毒素。
其功能为:不黏腻,使地板清洁又光亮,不需过清水拭抹,散发清新香味,使地板光滑,防肮脏,不宜粘灰尘,使地板更耐用,对皮肤无伤害,不造成环境污染。
Campurkan 1 penutup campuran kepada ½ baldi air (lebih kurang 8 liter). Tidak perlu dibilas air selepas menggilap lantai.
将一瓶盖浓缩地板清洁剂倒入半桶清水中(大约8公升),拭抹地板后,无须再次过清水。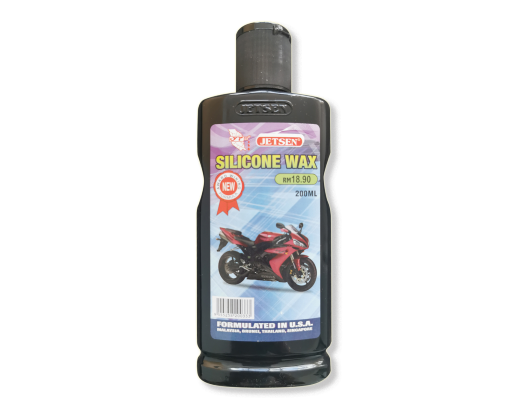 M.S.W. is a new exciting formula from U.S.A., that is specially created for powerful & economical cleaning of motorcycle leathers, motorcycle signal light & etc.
M.S.W.是美国新配方摩哆光亮蜡剂,不含粉状,简易使。摩哆皮件,物件,方向灯,照蜡不误,经济实惠,耐久光亮。
Wash and allow motorcycle to dry. Apply M.S.W. with soft cloth. When dry shine with clean dry cloth. It will leave a tough coat of silicone which protects the paintwork. Formulated in U.S.A.
将摩哆清洗干净,晾干。上少许摩哆光蜡剂M.S.W.。以干布上蜡,或速度将整辆摩哆打蜡,越擦越亮,能保持您的摩哆美观亮丽。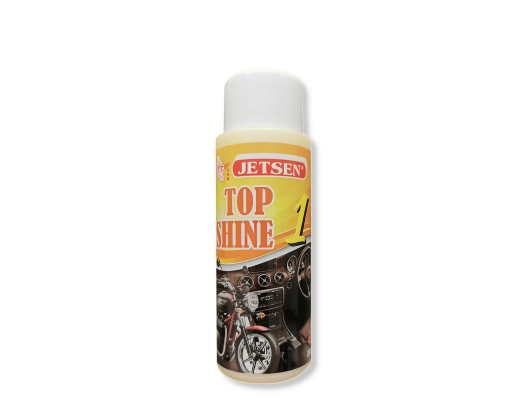 Polish protect and beautify vinyl rubber, plastic, pvc, finished leather, wooden, formica, metal and painted surfaces etc.
适用于任何皮革之类如:轮胎,木质,垫子,藤类,dashboard, bumper。
Just apply TS1 with a soft cloth or sponge, and clean it.
只需用少许于海绵上涂抹一次或二次即可。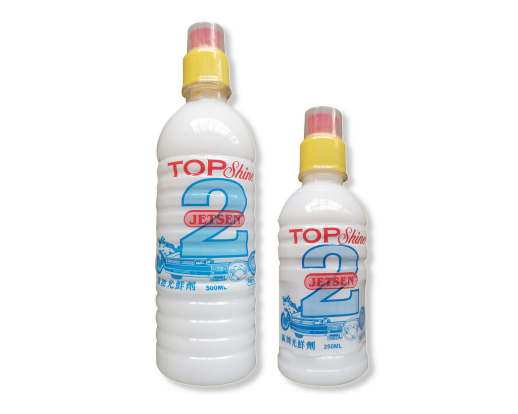 RM16.90 (500ml) / RM11.90 (250ml)
Top Shine 2 can be used at any types of leather, dashboard, woodwork, bumper, tyre and other.
适用于任何皮革之类如:轮胎,木质,垫子,藤类,DASHBOARD,BUMPER。
Just apply TS2 with a soft cloth or sponge, and clean it.
只需用少许于海绵上涂抹一次或二次即可。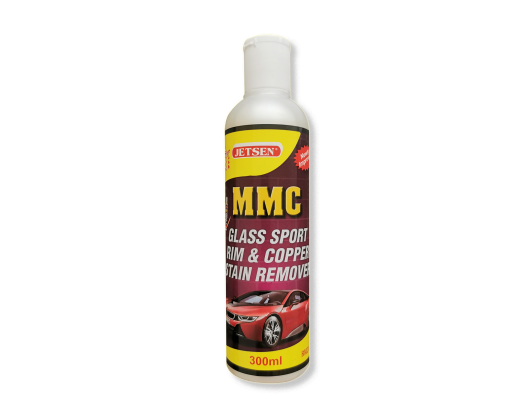 MMC is effective for instant remove those stubborn stains & bring out the original clear surface of glass window, door of cars, building, car sport rim etc.
MMC is an unique solution for all stubborn & long standing stains such as grease, watermark, traffic film etc. which normal glass cleaner or other detergent can't remove.
MMC是独特玻璃镜及车胎环除迹剂,專化解清除一切其他洗镜水或清洁剂所不能清除的超顽固污迹,水印等等。使镜面及胎环立刻回复原有的表面。
Spray some MMC on to wet sponge or cloth.
Apply directly onto glass, copper or sport rim surface.
Wipe clean with clean wet cloth. Thereafter, rinse with water if necessary.
Wipe clean with wet cloth when splash on paint or glass.
喷洒MMC于干净湿海绵或湿布上。
直接抹在镜面,铜或车胎环上。
再用干净湿布抹净。若须要,过后可冲洗。
若滴在车身上或镜子,立刻用干净湿布抹净。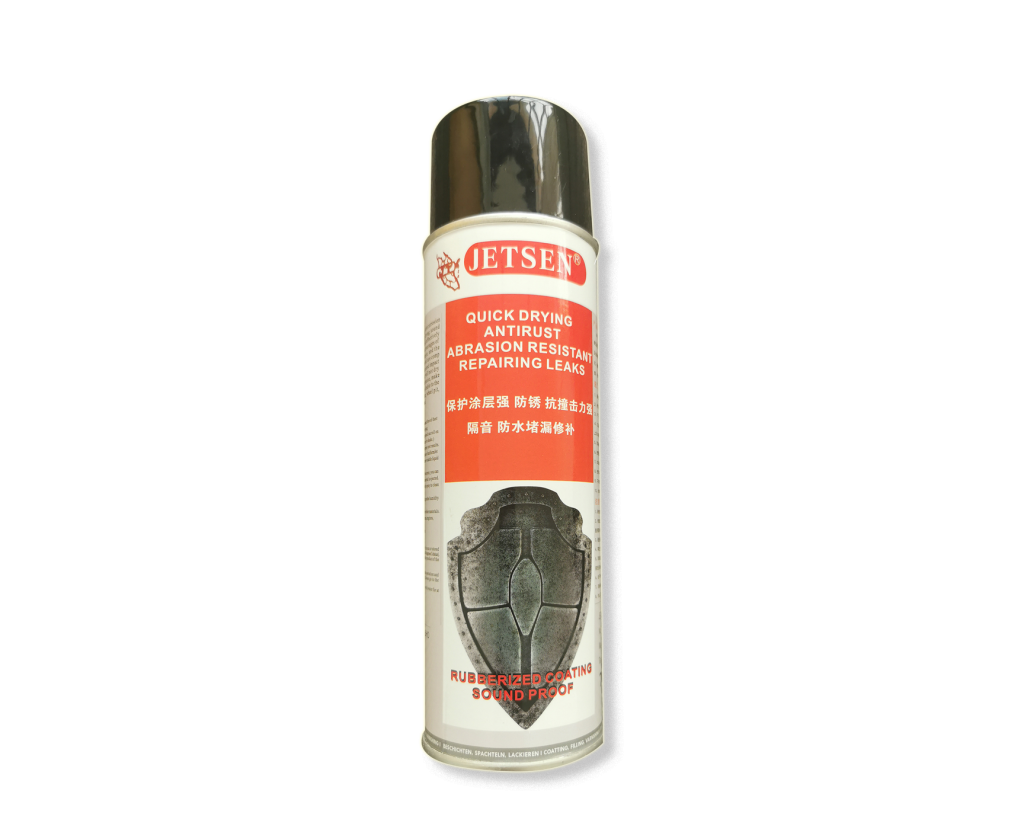 本产品采用一种高级快干防绣胶, 具有高密度, 粘附性强, 隔音效果好等特点, 能迅速而有效的形成特殊保护层, 具有独特的防锈抗腐蚀效能, 使汽车底部的橡胶及金属完全隔绝水气的腐蚀和砂石的撞击, 在炎热或严寒的气候中, 不会干固, 硬化, 脆弱, 并大大减少隔音, 使您安座车内享受到一个宁静的世界. 适于车身底部, 行李箱, 砂板, 车轮坑槽等地方. 其品质符合各大车厂的专业要求.
需喷涂地方的表面必须干爽, 清洁及不含尘垢油污或油膜, 并遮拦无需喷涂的地方.
使用前请用力摇匀直至搅拌珠能在罐内自由滚动. (注:使用期间亦需不时摇匀.)
于不显眼处或废弃的物件上试喷以测试效果.
在距离物品表面约20-50厘米处, 上下动作均匀喷射. 误涂到的地方请即用布沾上火水或挥发性液体清理.
若本品大致用尽但仍有部份没有喷出, 可尝试按着喷嘴并转动罐身直至物料喷出为止.
使用后应清洁喷嘴:倒转罐身喷射至出理干净的气体.
本品喷涂后约4-6小时干透, 视操作时的温度而定.
使用本品后不可再于其上喷涂油漆或其他物料.
不可使用于催化转换器, 排气系统, 引擎, 转动轴等极高温部位.
勿长时间存放于汽车行李箱或车厢内.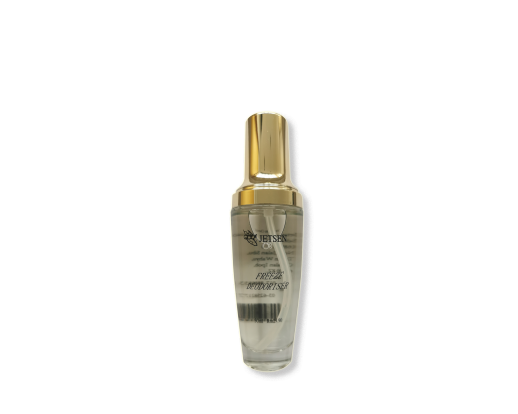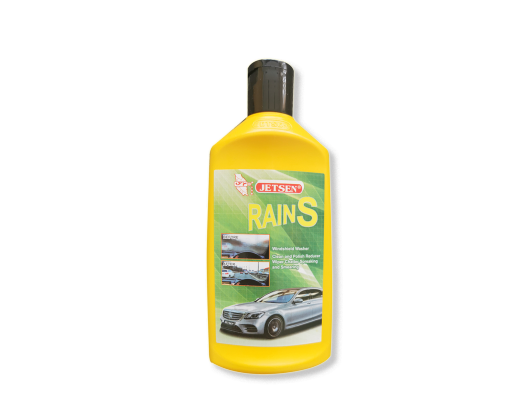 The all new Rain-S turns ordinary windshield washer solutions into high performance fluids for improved visibility and driving safety. Makes windshields water and soil repellent and reduces wiper chattering, streaking and smearing.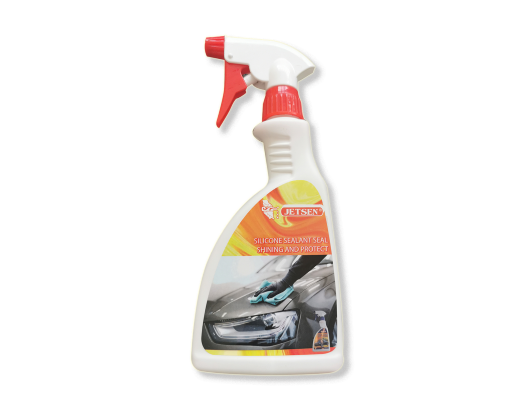 Silicone Sealant Seal Shinning and Protect
Anti Rust防锈
Anti Dust防灰尘
Ease of use 容易使用
Soft hand(Mild) 温和
Extra shine(Gloss) 顾外光亮(光泽)
Smooth the surface 润滑表面
Enhance Waxing Surface 加强持久打蜡表层
Protect rubber,PU,PVC (Black look) 保护橡胶,PU,PVC(加强黑色表面)
Use for whole car body,include glass surface (water repellent) 适用于整个车身,包括玻璃表面(防水剂)
Wash car thoroughly, make sure car is dry.
Spray Silicone Sealant on the car body, use a damp cloth spread evenly over car using continuous circular motion with sufficient pressure to remove oxidized paint.
When completely dry, simply remove with a soft, clean cloth immediately.
彻底把车洗干净,然后把腊油喷射在车身,用干净的布旋转式涂抹即可。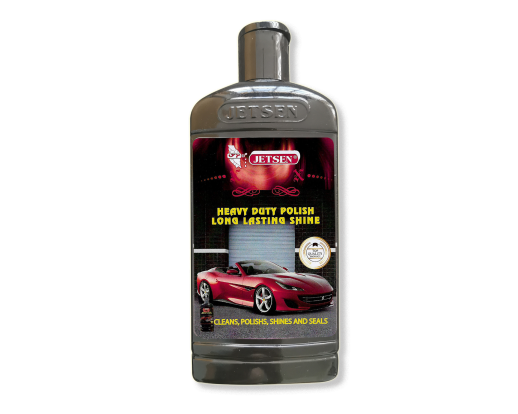 Heavy Duty Polish Long Lasting Shine
Easy and simple to user.
Polish in any direction you like.
Long lasting shine and smooth effect.
Anti rust properties.
Shaking is not recommend before used.
Wash and clean the car.
Dry the surface(warm surface preferred).
Squeeze onto soft and clean cloth and apply directly to the car surface.
After polishing, use another clean and soft cloth to remove the deposit surface.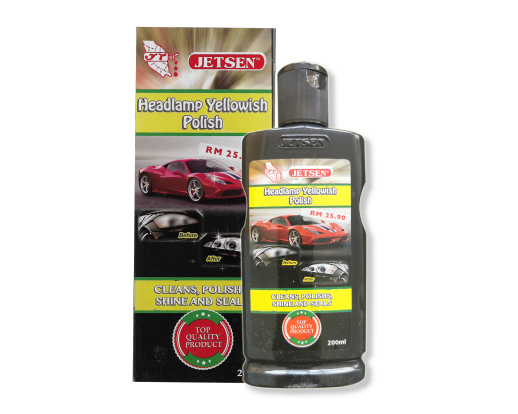 Headlamp Yellowish
Polish
Clean the headlamp with a wet cloth.
Pour Jetsen Headlamp Yellowish Polish onto micro fiber cloth and polish the headlamp till shine and clean. For best results, use machine polisher (with low speed). Prevent from overheating while doing the polishing with machine.
Clean all residues with dry cloth.
After Headlamp Yellowish Polish, for best sealing and protecting, apply Silicone Sealant.
Headlamp will look like new and shine after use Silicone Sealant.
先洗干净大灯,然后涂上(HLP),直接用机器,摩擦器或用手摩擦到亮为止即可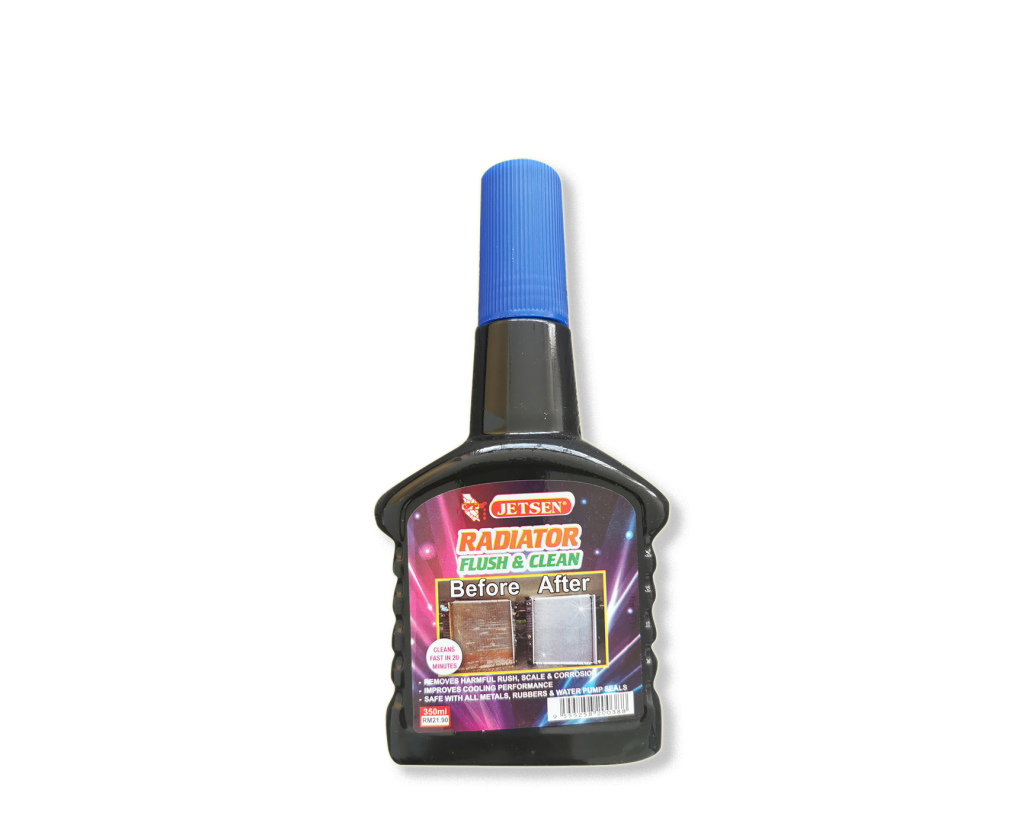 Removes harmful rush, scale & corrosion
Improved cooling performance
Safe with all metals, rubbers & water pumps seals.
Drain the cooling system.
Almost fully fill the radiator with water.
Shake the bottle well and pour Radiator Cleaner into the radiator.
Replace the radiator cap, start the engine and run at idle with the heater on hot for 10 to 20 minutes.
Let it cool down for a while.
Drain the radiator and flush with water, engine idling.
Flush until the water runs clears.
Fill the radiator with antifreeze and water or coolant ready to use.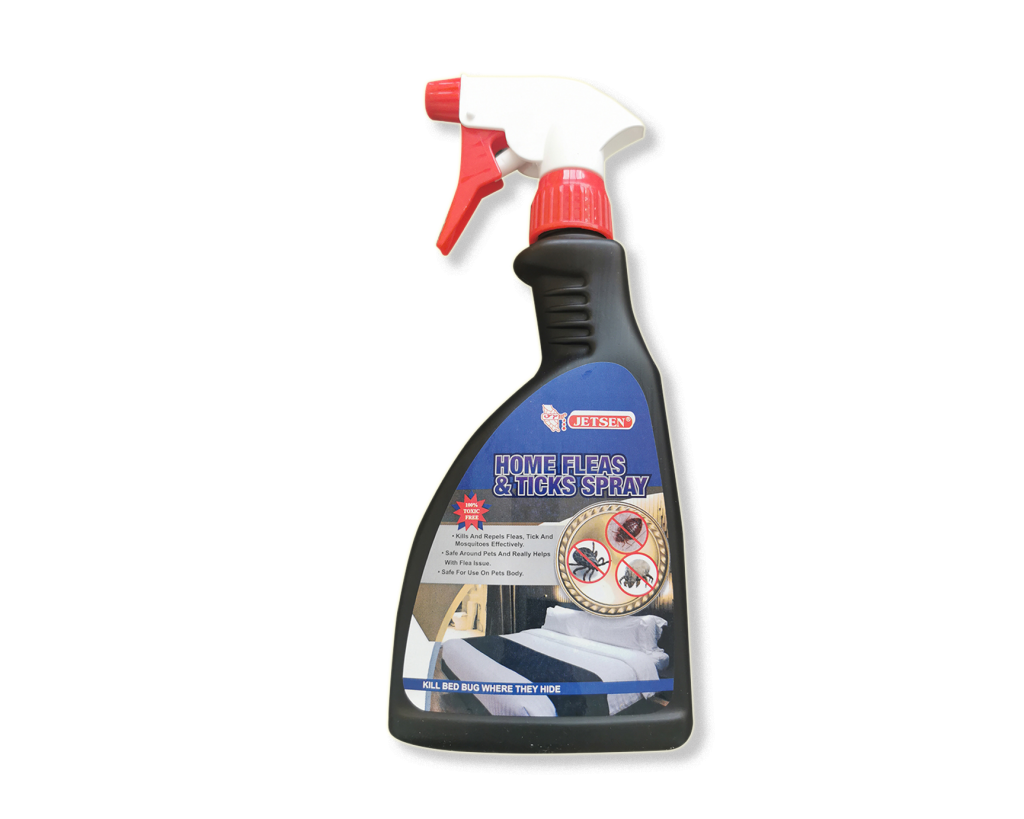 Kills and repels fleas, tick and mosquitoes effectively.
Safe around pets and really helps with flea issue.
Safe for use on pets body.
Benefits:
Eliminate fleas & ticks when applied weekly to the affected pets. Spray Jetsen fleas & ticks around the pet's. Sheltes weekly, will provide comfortable environment without the interruption of fleas & ticks.
Spray the product on the whole body (dry body) pet without contact with eyes massage throughly the entire body, wait for 20 minutes, throughly the entire body, wait for 20 minutes, wash with mild shampoo & rinse with plenty of water. Repeat the steps once a week until the fleas & ticks totally remove.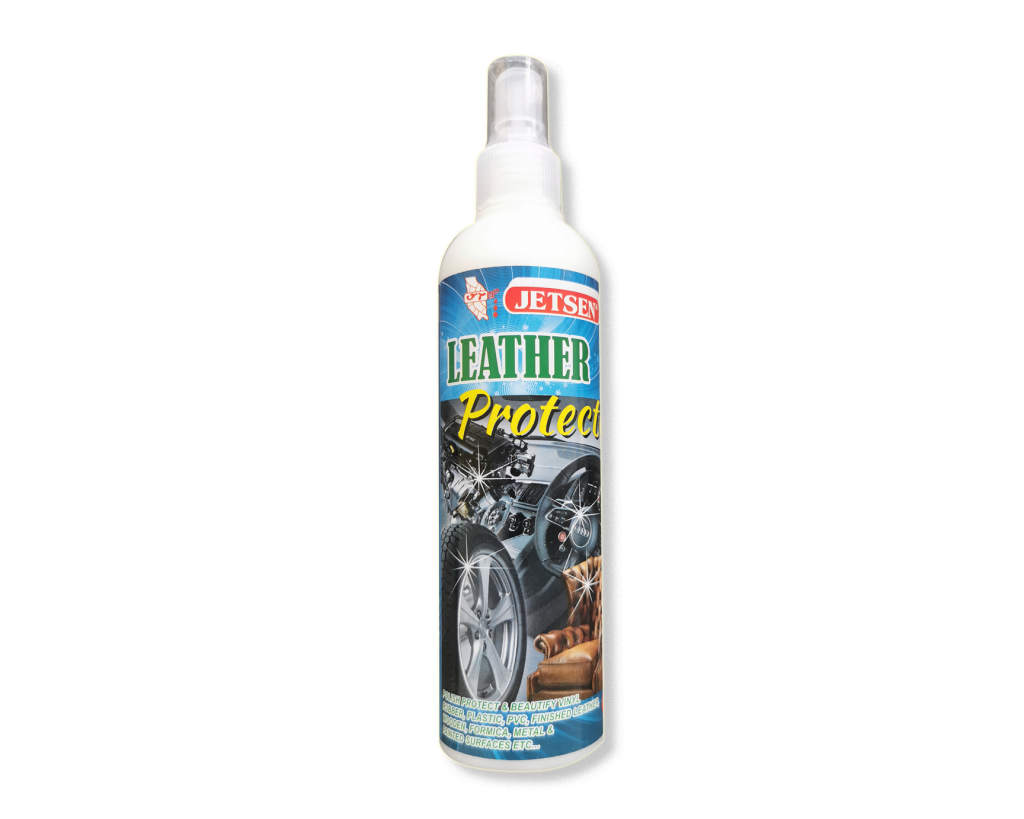 Polish protect & beautify vinyl rubber, plastic, PVC, finished leather, wooden , formica, metal & painted surfaces etc.
An unique silicone polymer solution specially formulated to give fast & effective beautiful protective coating which possess outstanding properties such as
NON OILY & NON STATIC
SUNSCREEN PROTECTION
STRONG BOND
DEEP PENETRATION
HIGH GLOSS
Just spray LEATHER PROTECTOR onto clean dry surfaces. Allow 1 minute penetration for better bonding, then wipe off excess for a high gloss & beautiful surface. Apply as & when needed to maintain the shine & beautiful protective coating.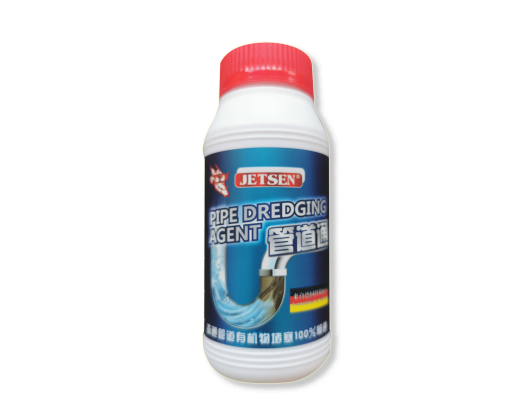 产品能快速有效对下水管渠内因毛发/油脂/菜渣/棉质/等有机物堵塞快速的生物分解疏通. 产品对: 金属, 水泥, 橡胶, 塑料, 材质起不到分解作用.
The product can decompose the organic matters such as hair/ grease/ food dregs/ cotton effectively so that it can dredge sewage clogged by the matters mentioned above quickly.
The products cannot decompose materials like metal, cement, rubber, and plastic.
家庭厨房/洗手间/浴缸/下水管道只要倒入 50-100g. 倒入产品后即可倒入300ml的清水, 3-5分钟后用大量清水冲洗至管道通畅.如仍有淤塞请重复上述操作,每月定期使用能有效预防下水管道堵塞, 清除水垢,杀灭管道细菌.
50-100g is needed for tge dredging in sewage of the household kitchen/bathroom/ bathtub. After the application of the product, pour in 300ml pure water in the pipe and flush the clogged pipe in 3-5 minutes until the clogging is removed. Repeat the operation above if clogging remains. Monthly operation can effectively prevent the sewage from clogging and scaling and sterilize the pipes.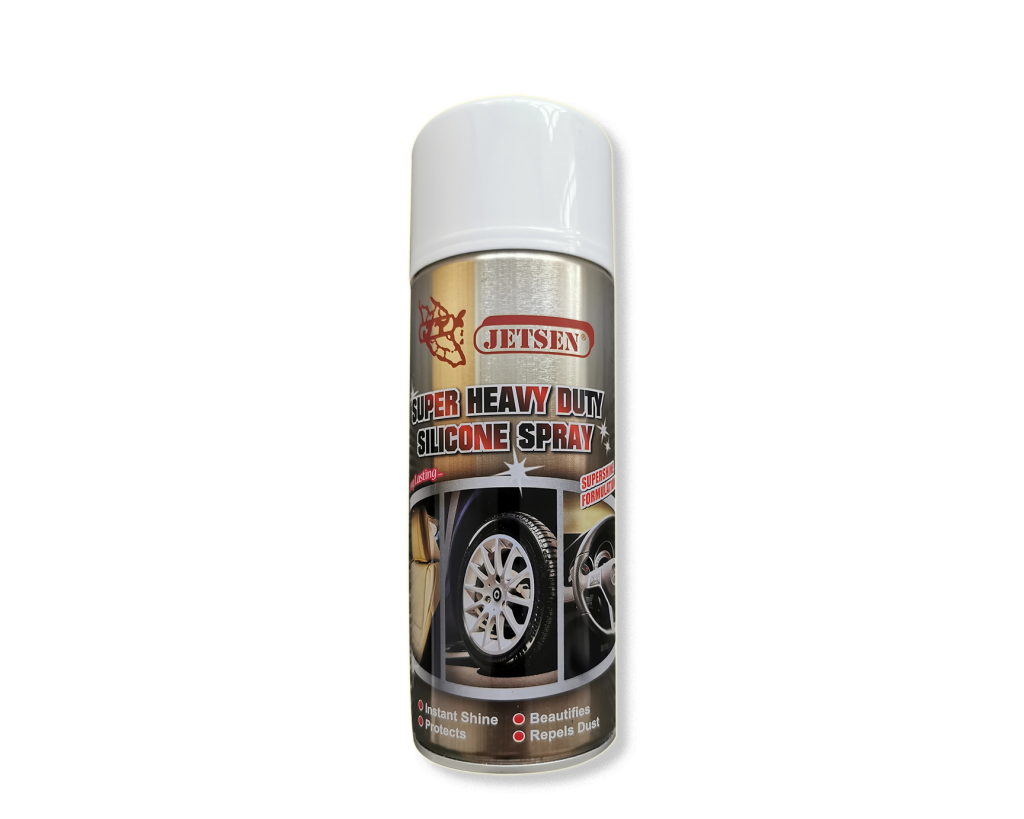 Super Heavy Duty Silicone Spray
Jetsen Super Heavy Duty Silicone Spray for dashboards, leather seat, rubber mats, wooden surface furniture, armchairs, motor boats.
Restore original glow and gives long-lasting protection against dirt. Water repellent, brine resistant, dust-proof.
Shake well before using.
To clean & polis, hold container upright and spray directly onto surface at approximately 15cm away.
Wipe the surface with clean dry clothes/ sponge. No wipe is required if spray on tyre.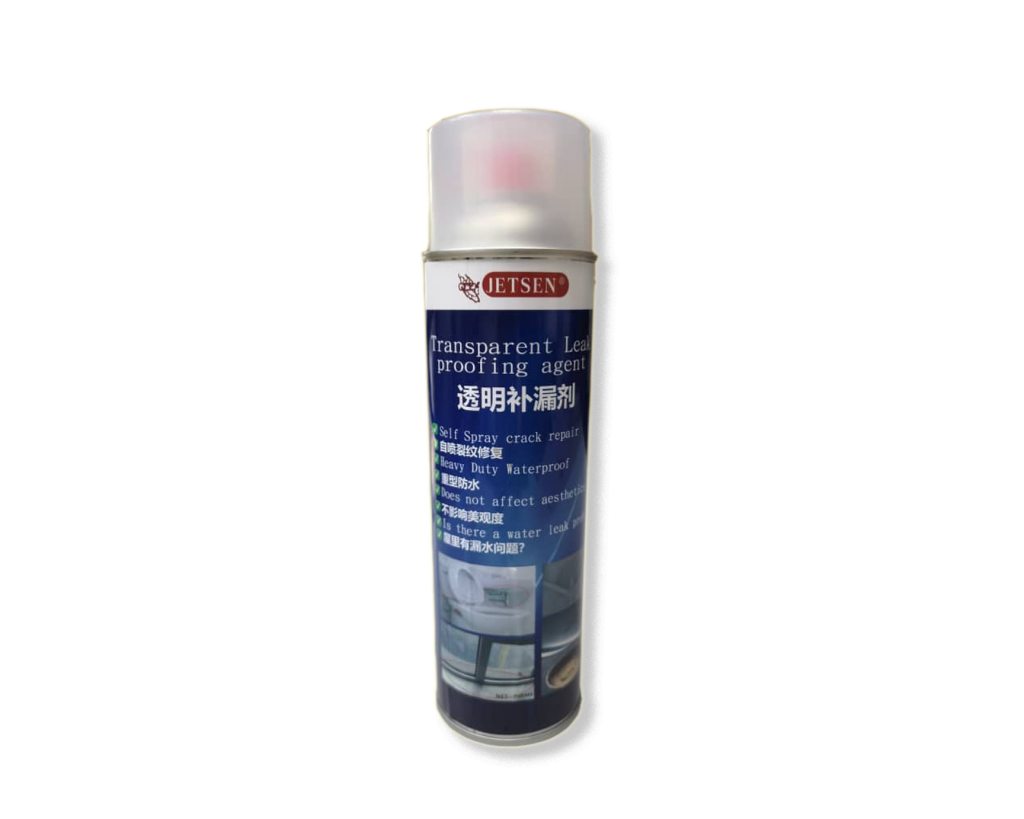 Transparent Leak Proofing Agent
Self spray crack repair
Heavy duty waterproof
Does not affect aesthetics
Is there a water leak problem?
自喷裂纹修复
重型防水
不影响美观度
屋里有漏水问题?
Scope of application:
Weak and easy dew points such as slotted wiring of corner / gap pipe root; 
Usage of leak sealant:
It only needs 3 steps, the operation is simple, spraying many times, spraying twice after drying, the effect is better;
Clear: clean the base surface and keep it clean and dry;
Shake: shake vigorously to make the spray fully mixed;
Spray: press it at the construction site
Spray back and forth;
适用范围:
拐角 / 隙管根开槽布线等薄弱易露点;
补漏胶的使用方法:
只需3步,操作简单博喷多遍,干固后重复喷涂2次,覆盖均匀效果更佳;
清: 清理基面保持干净, 干燥;
摇: 用力摇晃是喷剂充分混合;
喷: 对准施工部位按压喷头来回喷涂;
Let us know how we're doing!